Are You in Search of Binding And Printing Materials in Ajman, UAE?
You can never expect when you need something especially if it's something that most people don't require in daily life. It's not easy to get printing and binding materials when you need them. To get quality products of binding and printing materials, there is one best option, Dots Trading.
Dots Trading – One of the leading Process & Pantone Inks for offset Printing Supplier in UAE
We are Dots Trading
Dots Trading is one of the best companies who are dealing with products related to the printing industry. Dots Trading is the leading binding and Printing Materials Supplier based in Ajman, UAE
Dots Trading provides a wide range of solutions throughout the UAE. The solutions include the supply of printing materials, consumables, and other accessories.
So for all your printing material demands you can find the solution at just a phone call to the phone number +97167481073, which is the contact number of Dots Trading.
But that is not the only service of Dots Trading
Services of Dots Trading
Dots trading also provides much-needed products which are of the best quality at the most convenient rates. One of the main products We deal in is Face Shield.
The face mask has become a part of our daily life. We wear face masks and face shields to protect ourselves from the deadly Covid19 strain. A Face Shield provides a true physical barrier over your entire face creating a protective layer over all the portals of entry in your face like eyes, nose and mouth. It also reduces the irritation on a person's ear while wearing a face mask.
A Face Shield also reduces the frequency rate of a person touching their eyes, nose or mouth – in total touching the entire face. This also helps in the prevention of bacteria or virus infection.
As the Covid19 pandemic increases on a daily basis it has become mandatory to wear a face mask. Not just to protect ourselves, but also to protect our family, friends and loved ones.
Dots' Trading is also one of the Leading Face Shield Suppliers in UAE.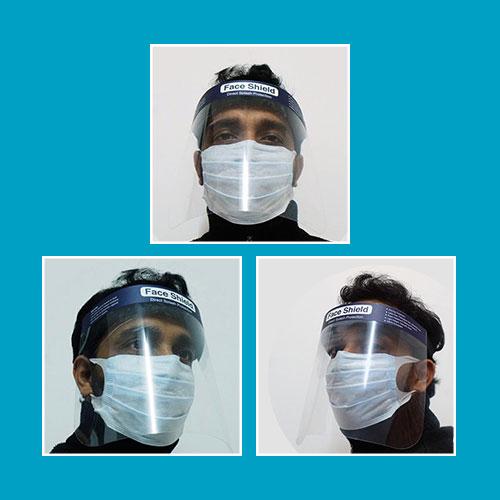 Some of the other services they provide in the UAE are as given below
1.Hard boxes for Gift
2.Polymer Plates
3.Perfumes supplier UAE
4.PVC/PET Film Clear Sheets
5.Chocolate Boxes supplier in UAE
6.Sweet Boxes supplier in UAE
7.File Fasteners for Files Supplier UAE
8.Paper Bags supplier UAE
9.Pantone Color Guide Supplier UAE
10.Glue sticks supplier in UAE
11.Finger Lift Double-Sided Tapes Supplier UAE
12.Glue Dots supplier in UAE
13.Magnets supplier in UAE
14.Sewing Thread
15.Process & Pantone Inks for offset printing supplier in UAE
16.Grey Board supplier in UAE
17.Book Binding Screw
18.Kappa Board supplier in UAE
19.Stretch Film for wrapping supplier in UAE
20.Ejection Rubber supplier in UAE
21.Eyelets supplier in UAE
22.Eye letting Machine supplier UAE
You can always visit their website to know more about their products and services. Or you can just call them up directly. We are always happy to assist you in finding the right product at the right price.
Contact Us +97167481073