Know Everything About Velcro
Inventor George De Mestral was walking his dog when he noticed the interesting shape of the cockleburs that had adhered to his pant legs.
It's hard to imagine what we would do without Velcro, the versatile hook-and-loop fastener used in so many sectors of modern life, from disposable diapers to the aerospace industry. The wonderful invention, nevertheless, almost didn't happen.
Nature served as the inspiration for the Velcro brand of textile fasteners. The idea for Velcro came to Swiss engineer Georges De Mestral during a 1941 walk in the woods with his dog. When they returned home, De Mestral found that his dog's fur and his jeans both had burrs (from the burdock plant) clinging to them.
The discoverer came across cockleburs that grew in various organic hook shapes that might cling to passing animals or people. The delicate fabric of Mestral's slacks formed a number of minute loops into which the hooks of the cockleburs could easily fit. Mestral decided to create a cloth version of the fastening mechanism after becoming aware of how challenging it was to get cockleburs out of clothing.
De Mestral examined the burrs under a microscope. He was an astute observer and amateur inventor. What he observed piqued his interest. De Mestral would spend the following 14 years attempting to duplicate what he saw under the microscope before releasing Velcro to the public in 1955.
Uses of Velcro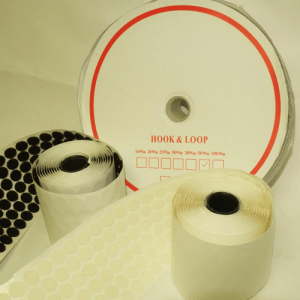 Since its invention in the 1940s, Velcro, also referred to as "hook and loop" fasteners, has been a useful way to cinch things together. By joining one strip of plastic hooks to another strip of loops that resemble fuzzy fuzz, Velcro fasteners are created. They are resilient, fleeting, and adaptable. Velcro has many practical applications in daily life.
Dots Trading is one of the most sought-after and respectable companies and is one of the leading Velcro Suppliers in the UAE.
We provide top-quality Velcro of various sizes, shapes and colours at the most economical rate. If you are in search of top-quality Velcro products, all you have to do is get in touch with us.
All our products are quality checked and made sure they fit your need and price.
History of Dots Trading
"Dots Stationery Materials Trading" is a reputable provider of binding and printing supplies with its headquarters in Ajman, United Arab Emirates. Since Dots' establishment in 2007, we have worked hard to rank among the best companies in the printing and binding industry. We provide a range of services in the UAE, including the supply of printing supplies, consumables, and other accessories.
We are also the leading Magnet supplier in UAE.
All of our products are reasonably priced and are consistently scrutinised for their excellent quality and durability.
All of our products are created in compliance with the most recent standards for quality and professional guidance.
Some of our top-selling items include cutting sticks, heat-resistant tapes, paper bags, book-binding screws, and eyelet machines. Our consumers can buy all of "Dots'" products at incredibly low prices, making them highly economical.
Our highly qualified personnel not only provide technical support for our clients regarding our goods but also aid in the efficient operation of our company.
We constantly keep an eye on the latest developments and technological advancements in the industry to ensure that we can meet the changing needs and demands of our clients.
For more details, Call +971 4 3272731.