What Are You Gifting Your Valentine This Year
Valentine's Day is just around the corner. Have you decided what you are gifting your valentine?
If you haven't got a gift till now, it is time you start now. If you have already bought a gift, then it is time to plan how to deliver it safely.
Let it be chocolates or a ring, a watch or a diamond pendant, it is essential that you choose the right box to ensure that it does not get damaged en route.
Come to our shop and choose the box that meets your need. We, as one of the leading Hard Boxes for Gifts Supplier in UAE, have the largest inventory that you can choose from.
Due to the usage of a variety of eco-friendly materials, your custom hard box will have unrivalled quality, style, and finish. We offer amazing color stains and themes for our hard boxes.
Where appropriate, hard foam or polystyrene inserts that have been laser-cut to fit your contents in your custom gift box can be covered with a range of opulent inside fabric linings, such as silk, flock, and hessian.
Whatever your requirements are, we can work with you to achieve the perfect finish.
Without charging you extra, the talented team at Dots Trading can design, customise, and mix your hard box and gift packaging solutions to suit your demands.
All Dots Trading's bespoke hard boxes can be embellished with printed text, logos, or even polished metal plates to give them a distinctive look that will make your brand more recognisable to buyers.
Hard boxes from Dots Trading are highly eye-catching; they can be adorned with pyrographic designs, exquisitely polished brass strip inlays, or characters for a distinctive and gorgeous finish.
Each custom hard box is assembled by our expert artisans utilising traditional, semi-automated craft methods in order to maintain consistent quality standards.
Our hard boxes are not just for valentine's day.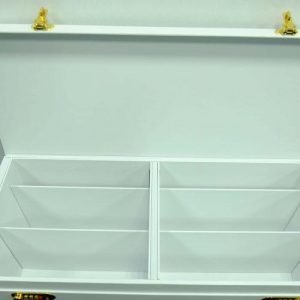 Where to Get the Best Hard Boxes in UAE
Dots Trading is a reliable and experienced manufacturer of gift boxes. Place your order for your wonderfully made custom hard boxes from them.
You may make beautiful gift boxes to display your products using our hard boxes.
It can even be customised to promote your brand and business.
On that brief note, we also are one of the most sought-after Uniform Printing companies in Dubai.
A custom-designed hard box or t-shirt with your branding can be used to gift your clients and employees.
Utilizing inexpensive bottles, jars, and other gift packaging supplies, create stunning presentation package boxes or lovely gift sets with your branding.
For years, Dots Trading has offered exquisitely crafted, personalised gift boxes. Their offerings include wine bottle packaging, custom gift boxes for corporate presents, retail gift boxes for your specialty food and drink items, hard boxes made to order for aromatherapy and homoeopathy products, and whisky gift sets for whisky and other alcoholic gifts.
You can choose your design from an existing pattern or work with us to develop a fresh hard box design that will meet your specific needs.
For more details, visit our website or Call +971 4 3272731.